Art for jeweler Cheryl Swartz is more than a labor of love; it is a lifetime of passion, work, and a lot of tools. "I have a lot of tools, it's one of the things that I love about making jewelry," Swartz smiles, her studio shop neatly lined with delicate hammers, pliers, and of course, a small specialized blow torch used to manipulate precious metals and stones into masterpieces.
Swartz has spent a lifetime making and selling her jewelry across the United States; and for the last several years, her shop located on Main Street in downtown Westcliffe has steadily produced unique works of art. In addition, her shop now also boasts and sells the fine pottery of renowned artist Karen LeBlond.
Swartz's story of pursuing a life of hot metal and stunning jewelry started with a simple passion for the arts and a constant path to finding a way to make artwork. "I really started considering my art as a business around 1990 and started to find a way to sell my pieces by partnering in a gallery for seven years." But there is a line that many artists must face, a line that is scary, and that is when to take art for art's sake and put it out there for people to buy. "That step is a leap of faith, and there were a couple of factors that helped me in that process.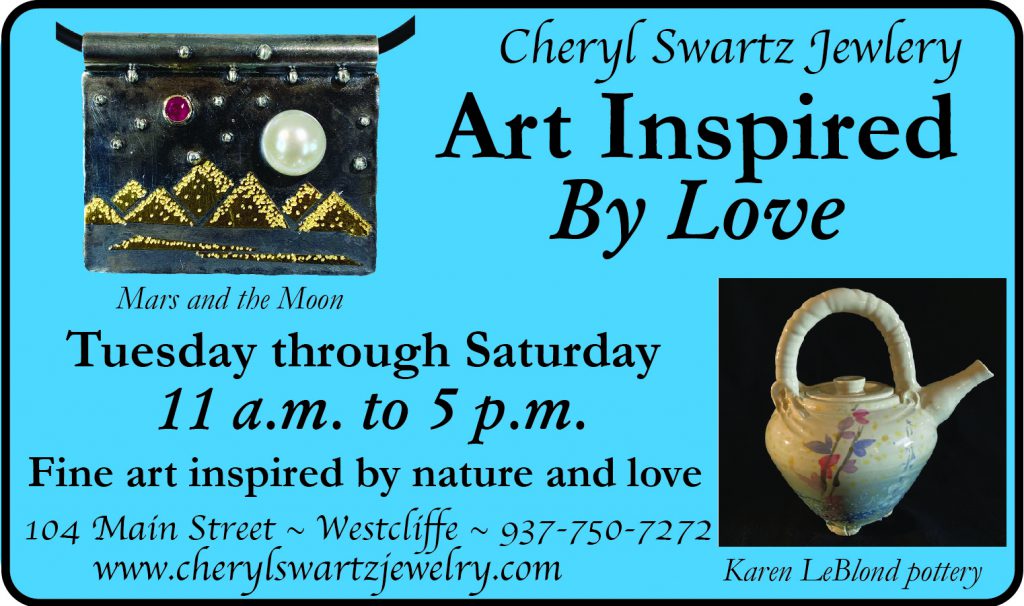 "I was working in an office full-time, and it was a choice between substitute teaching or finding something that was full-time. And so, while I was in that job back in Ohio, I was taking night art classes and focusing on metals education. The office job was not creative, and it's hard to be creative when working with figures on a page because they either add up or they don't, and I thought it would be great to have a job and stay home at the same time so that I could spend more time with my husband and kids." Swartz took the leap of faith, quit her office job, and created a workshop. "It was really interesting, the first day my kids knew I was going to stay home, and it was about three in the morning, and my son in third grade woke me up gently and said, 'Mom, mom, I made breakfast for you.' And we went in the kitchen, and he had made scrambled eggs in the microwave." He was so happy that I was going to stay home instead of going to the office." Over the years, Swartz has learned more and more about jewelry, and the most surprising and touching aspect is the stories people create around a piece. "Over the years, I offer repairs, and when people come in to have me fix something that has broken or needs to be resized, it's always about the stories of that jewelry that is the most valuable, not the value of the metal in the piece."
Telling stories is still front, and center of Swartz's series of Dark Skies – and Aspen Gold – inspired jewelry, works of art that capture the wonder of the heavens and nature in Westcliffe. "I got the idea in my head that I could use many of the techniques I have used to create little moments of time of staring into the heavens or at a grove of golden aspens. Unique is the dark background using sterling silver that has undergone oxidation and makes a dark patina, which makes the silver nearly black." The steps continue, each one taking time, patience, and craftsmanship that only repetition of decades can achieve. "It's a day-long process to roll out the gold, to cut the thin pieces, to solder, to make silver and gold bind in the right way to look beautiful," Swartz concluded.
In the end, these are pieces that are totally unique, and each has a story to tell, and with Valentine's Day next week, there has never been a better time to buy something special and create a new family story.
Cheryl Swartz's shop is located at 104 Main Street in Westcliffe or you can find her online gallery at cherylswartzjewelry.com.
– Jordan Hedberg