Who says summer has all the fun in the Valley? Starting on Friday, this coming weekend is packed with events for both kids and adults.
Friday, October 28
• Benefit supper and auction plus bake sale for the Cotopaxi Amish Church. Supper at 4:30 p.m. with the auction starting at 6:30 p.m. See the advertisement on the bottom of page five for more information.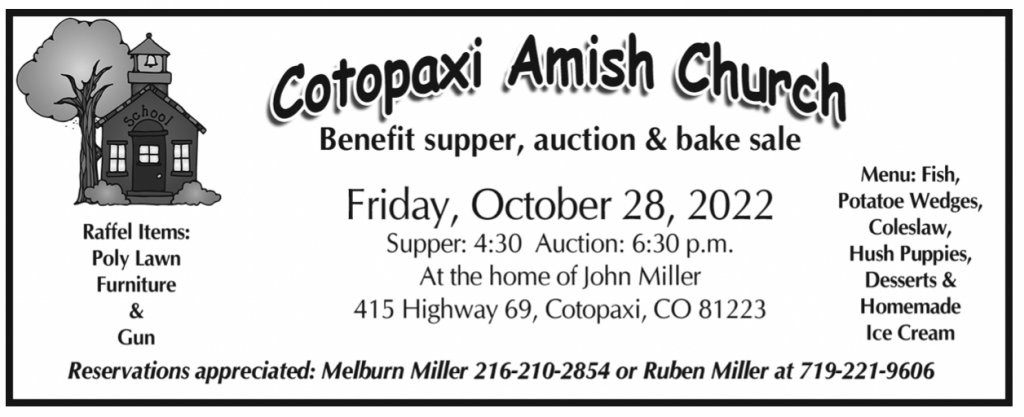 • Live performance of the comedy Bell, Book and Candle opens at the Historic Jones Theater with a celebration following the performance to mark the 30th anniversary of the founding of the Westcliffe Center of the Performing Arts. The show will run Octo- ber 28-30, and continuing November 4-6. Friday and Saturday performances will be at 7 p.m., Sunday matinees at 2 p.m. Ticket prices are $20 for adults, $15 for students and active military, and $5 for kids 12 and under. Tickets will be available in advance at Candy's Coffee and Arterburn Fine Arts in downtown Westcliffe, or online at https:// jonestheater.com.
Saturday, October 29
• Art Harvest at the Beckwith Ranch will run from 8 a.m. to 4 p.m. with over a dozen of the finest artists in the region displaying their works for sale. Along with live painting! See the Advertisement below for more information.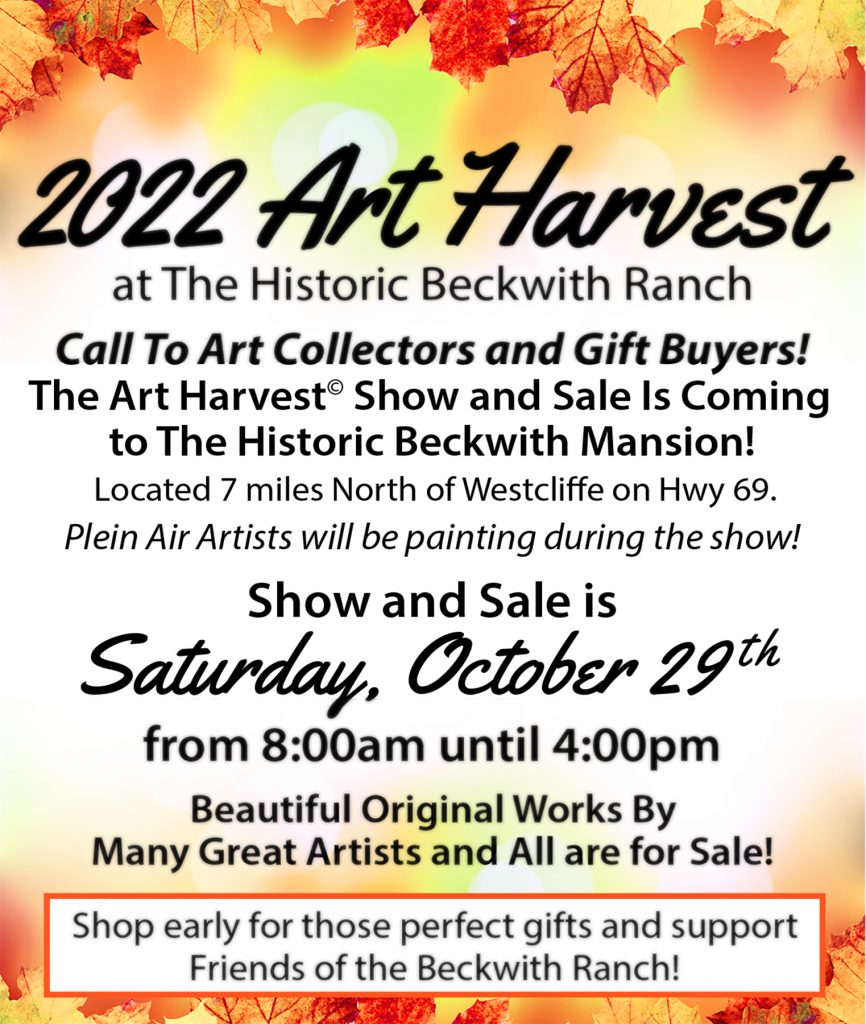 • Dog Costume Contest at 10 a.m. at the Dundee dog park in Silver Cliff. Catego- ries include spookiest, most creative, worst behaved and of course the most "pawsome!"
• In conjunction with the Art Harvest is the Harvest Festival from 11 a.m. to 4 p.m. at the Beckwith Ranch. This event includes a hay maze, wagon rides, games and pump- kin decorating, a costume contest for kids, Indian tales, Don Mauro Farmers Market, music graveyard, bake sale, food and much more! Costume contest starts at 1 p.m. with prizes including 2 free Chromebooks donated by the Electron Wizard!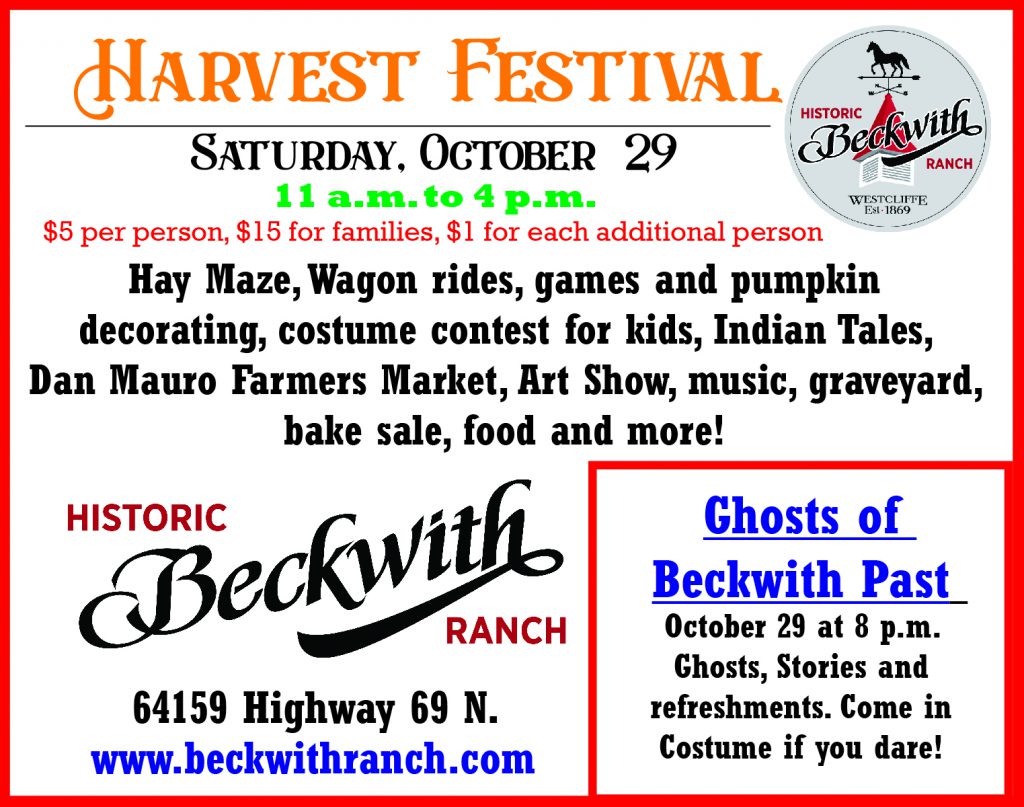 • 7 p.m. Bell, Book and Candle starts at the Jones Theater.
• 8 p.m. Ghosts of Beckwith Past at the Beckwith Ranch. For adults only: there will be stories, refreshments and of course ghosts, come in costume if you dare!
• Costume party at the Silver Dome Saloon and Music Hall with band Spur of the Moment. Music starts at 8 p.m. and goes until midnight. Those in costume get in free, otherwise it is a $5 cover.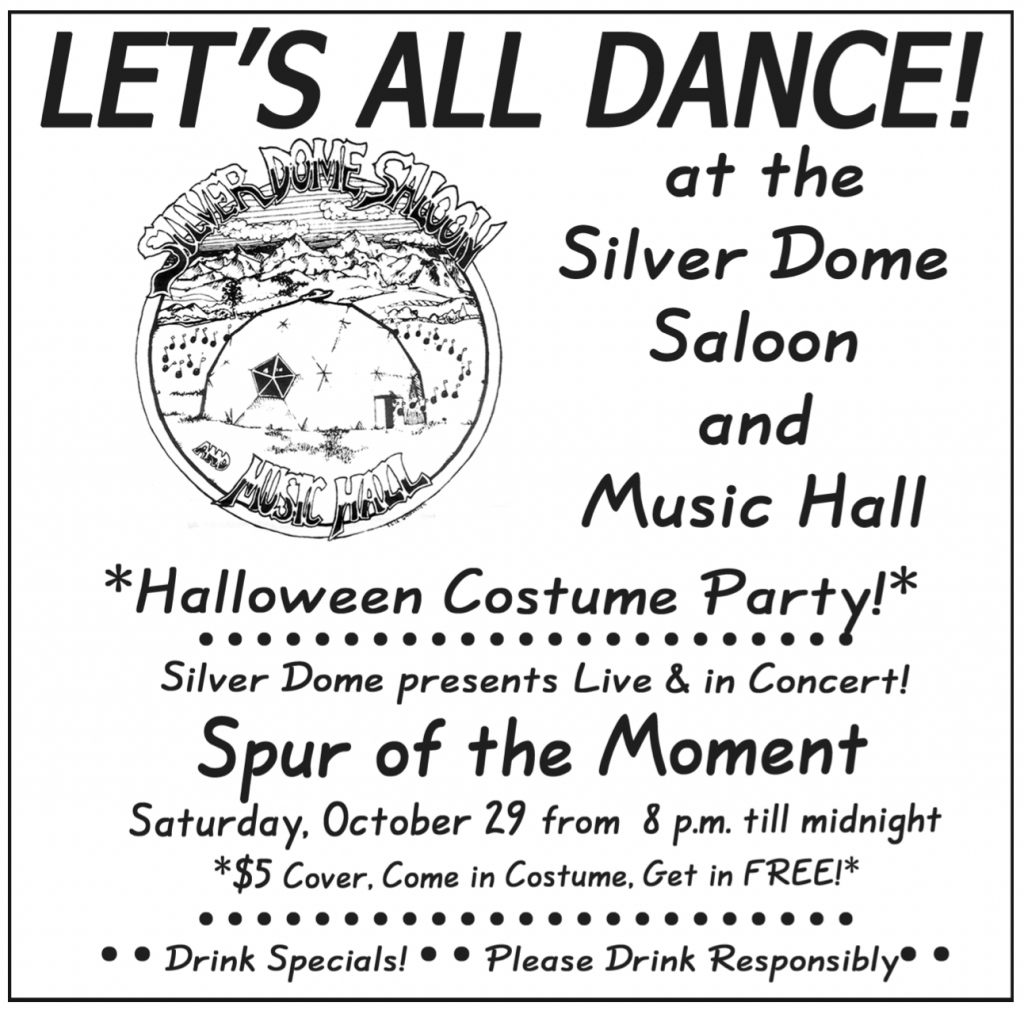 • The annual school chili dinner and Hal- loween Carnival will be held in the MPR and West gym from 3:30 p.m. to 9 p.m.
Sunday, October 30
• 2 p.m. Bell, Book and Candle starts at the Jones Theater.
Halloween, Monday, October 31
• Halloween Monday will be the setting for the 26th Annual Merchant Halloween Walk for Trick or Treaters and their parents. The Merchant Walk will be held from 4 to 6 p.m.