"This article first appeared in the Wet Mountain Tribune Newspaper, in the "2019 Real Estate and Builders Guide." Published in March, 2019.
Buying a building supply business in the rugged mountains of Colorado, is an adventure that husband and wife team Tara and Daniel Simmons would have never predicted just a few years ago. But that is what happened when the hardworking couple bought "Westcliffe Building Supply." They are now living, working, and raising a family in the mountains; exactly like they always wanted to do. It is young risk-takers like them that provide the foundation of the local economy.
"I had enjoyed working with the previous owner. I have always liked working with wood, and I came to realize that I loved working with the customers. Adding a great value to building a customer's dream home is exciting work," Daniel explained. "I had a big background in sales and when the previous owners came back from a vacation, we had decided to buy the business from them."
Of course, the story was not that simple. When the Simmons were first approached to buy the business they thought "no!," but then they thought about the idea. "We prayed about it and talked it over and we felt that this was something that we could do, that we could do it together as husband and wife, with our three boys." But finding the money to buy the business was a problem. "We did not have enough to buy the business outright and it turned out that a loan from the bank was not a good option." What ended up happening surprised them both. "It was actually a customer I had worked with that came forward and within a week they had made us a private loan to buy the business." The new investors saw something in Daniel that they wanted to be involved with.
It was Tara that had originally loved the Valley, living here for a few years as a child. "I had always wanted to get back to Westcliffe, it was such an amazing place and my sister had attended a few years of high school at Custer County." Tara had spent years in and out of Horn Creek and knew the Zeller family that had built Horn Creek and the Seminary at the base of the Sangre de Cristos. "I just wanted to get back and live here full time."
Tara's family owned a house here but had not moved out full time yet. They were both able to get jobs but there is always uncertainty with employment in the sparely populated Valley. "It is hard living here but it is that commitment and dedication that we can do this, and knowing we have something that the Valley needs," Daniel explained.
Westcliffe supply focuses on providing a fair value for all the materials needed to build a home here in the Valley. By keeping the overhead low and running the business themselves, they can provide customers with better prices and quality on everything from a single 2×4 to an entire package for a home. "We have everything needed to get a home to a 'dried-in state.' If it is in the foundation, walls, roof, windows; we can get it for you."
One of the main advantages of working with a local building supply compared to a box store in Canon City or Pueblo is that there are tricks to building in the Colorado mountains. "Windows are a good example of knowing the suppliers. Often vacuum double-pane windows will break when coming up to this altitude due to the pressure difference in the vacuum that provides insulation. Its important to know what works here and what does not."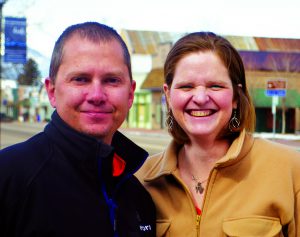 The couple are friendly and welcome anyone that needs supplies to give them a call at 719-371-4811 or visit them at www.westcliffesupplyco.com.
-Jordan Hedberg