"If the art is what makes you happy, then find a way to do it and somehow you will find a way to make ends meet," is the advice that renowned animator Aaron Blaise gives to young students that ask how to make a living as an artist. "My step dad told me when I wanted to be an illustrator for National Geographic as a child but I was worried about how much it paid, 'chase your passion, the dollars will follow."
On Wednesday, September 26 at 6 p.m. Blaise will give a presentation at the historic Jones Theater about his journey as an ani­mator working for Disney animation for 21 years and his path since leaving Disney as an entrepreneur with a mission to make the skills of animation affordable to those that want to peruse dreams of movie creation.
During an interview at the Tribune, Blaise described the odyssey of his life as an animator and the subtleties plus luck that go into following a passion in the arts.
"It has been a long round trip and to get the story right I have to start with a little trailer in the everglades where I grew up. I was always out in the swamps drawing animals and that was always my first love. I grew up wanting to be an illustrator or a wildlife painter, but my real goal was to be an illustrator for National Geographic. That's what I went to college for but I found out pretty quickly that National Geographic only hired freelancers and I knew freelance well as it is what I had been doing to pay the bills through art school."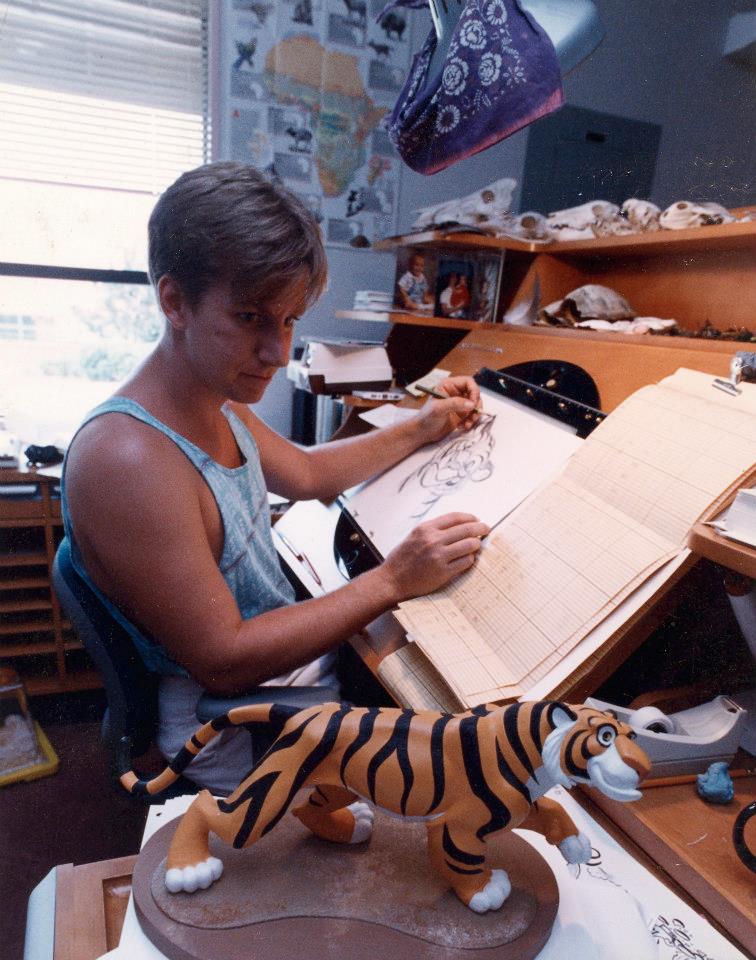 Luck played its first important role in Blaise's journey while he was enrolled at the Ringling College of Art and Design in Sarasota, Florida. "Two companies were coming to interview students for jobs. One was Hallmark Cards and one was Disney. And Disney happened to interview me first. I had never thought about animation before but thought that being a background artist or something could be cool." At 19 years old he joined Disney for a $9 an hour internship.
In an alternative universe, Blaise could be coming to Westcliffe as a world-famous Hallmark Card artist rather than the co-di­rector of "Brother Bear" an Academy Award nominated film that fully captured his pas­sion as an animal illustrator.
Of course, luck follows the prepared and Blaise had been practicing for decades and developed a foundation of skills that Disney wanted to see if they could develop into ani­mation.
"It was Disney's first intern program and they wanted to see if they could teach ani­mation to people with a good base in draw­ing and painting. Disney had tapped out all the animation schools in the country at that time. In the 1980's there really was only one animation school and that was Cal Arts. It was not until the late 1990's that animation became sexy again and animation schools popped up all over the place."
The resurgence of animated films after the golden era in the 1950's caught the world off-guard; and Blaise was one of the artists that helped rekindle the love of animation in the public.
Luck intervened a second time. "By chance I was partnered as an intern for Glen Keane, one of the world's greatest animators and he became my mentor." Keane would be one of the great forces behind the block­buster hits such as Aladdin, The Little Mer­maid, Beauty and the Beast, and many more.
"I remember going into Glen Keane's office for the first time and he showed me in one hour what you could do with ani­mation, and I was hooked. I knew that is what I wanted to do and for 21 years that's what I did. In that time I still loved animal drawings. That's why when the opportunity to do Brother Bear came up, I jumped on it because it was an animal based film.
But like all great adventures, pain and loss had a role to play in the future direction of Blaise's career, and by the end he would have to recreate how he defined himself.
"It took a hard-emotional left hook punch that changed my path away from Disney. My wife of 20 years was diagnosed with breast cancer and ultimately, she passed away in 2007. It just devastated me. There were really two things that defined who I was: It was my job with Disney and my family. And both had been devastated by the loss of my wife."
"During a meeting right after being pulled from directing a film that I had strug­gled with for two years the company wanted me to stay on with Disney and it just sort of slipped out. 'No, I think I quit.' It was not like an angry resignation, but I needed to go find myself again and be with my kids and figure out how to rebuild."
Necessity is often the mother of inven­tion and sitting on his deck with a cup of coffee, he started the process of reinvention at the age of 41. "It really came down to two things. I wanted to do something that would make my wife proud and I wanted to share my knowledge to others. And that's when I started thinking about the guy that trained back when I was 19 years old. To this day Gary Keane is one of the most giving people of his knowledge that I have ever met."
His successful online tutorial website "Creature Art Teacher.com" offers free and affordable classes for artists that need instruction like he received at Disney.
"In the end, we really want to make art affordable to people around the world; and that's what we are doing."
For more on Blaise visit www.crea­tureartteacher.com
– Jordan Hedberg